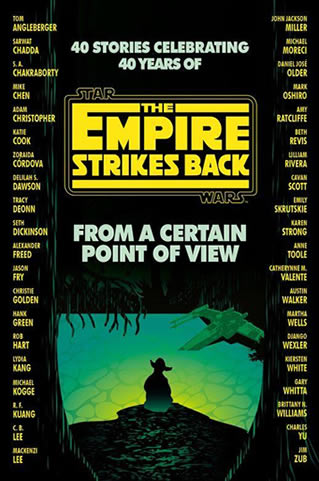 November 10, 2020 from Del Rey
Hardcover Edition ISBN-13: 978-0593157749
ASIN: B089S7FPLB
Ebook Edition ISBN-13 978-0593215418
CD Audiobook Edition ISBN: 978-0593215401
The Empire Strikes Back:
From A Certain Point of View
NATIONAL BESTSELLER • Celebrate the legacy of The Empire Strikes Back with this exciting reimagining of the timeless film featuring new perspectives from forty acclaimed authors.
On May 21, 1980, Star Wars became a true saga with the release of The Empire Strikes Back. In honor of the fortieth anniversary, forty storytellers re-create an iconic scene from The Empire Strikes Back through the eyes of a supporting character, from heroes and villains, to droids and creatures.
All participating authors have generously forgone any compensation for their stories. Instead, their proceeds will be donated to First Book—a leading nonprofit that provides new books, learning materials, and other essentials to educators and organizations serving children in need.
Lydia Kang's story, "Right Hand Man," sheds light on the behind-the-scenes interaction between medical droid 2-1B and Luke Skywalker, shortly after Luke's traumatic encounter with Darth Vader. As 2-1B helps to attach his new synthetic hand, he realizes there is much more to fix than a simple wound.
Purchase your copy of The Empire Strikes Back: From A Certain Point of View
Praise for The Empire Strikes Back: From A Certain Point of View
"Right-Hand Man by Lydia Kang– There's something poetic about this story from the 2-1B droid's point of view as it works to attach Luke's cybernetic hand. There is a depth here that many short stories can't reach. The philosophical discussion between Luke and 2-1B regarding healing was a real treat. Coming near the end of the book, it gives a nice closure to this collection."
— Boba Fett Fan Club
"By the time we've departed Cloud City and rejoined the Rebel fleet, Lydia Kang's "Right Hand Man" gives us a nearly perfect conclusion to the collection."
— StarWarsNewsNet.com
"Right-Hand Man" by Lydia Kang– If any title could rival "Rogue Two," it's this one – because this story is told about the droid that gives Luke Skywalker his new right hand, 2-1B. Luke struggles with an inner pain and wrestling with his newfound identity, and while the droid can't understand all of this, he winds up offering some very deep and poetic insights and advice that make this more than just an ordinary tale but a profound and thoughtful one too.
— Star Wars Thoughts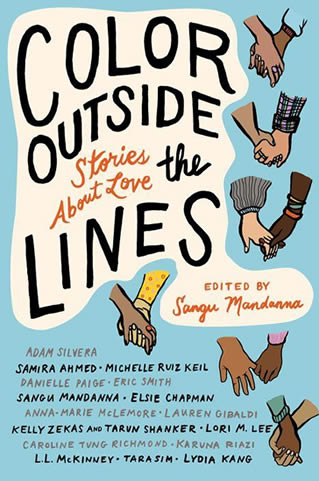 November 12, 2019 from SoHo Teen
Hardcover Edition ISBN-13: 978-1641290463
Paperback Edition ISBN-13 978-1641291743
ASIN B07NV1GGW2
Ebook Edition ISBN 978-1641290470
Audio CD Edition ISBN-13 978-1664482562
Color Outside the Lines
This modern, groundbreaking YA anthology explores the complexity and beauty of interracial and LGBTQ+ relationships where differences are front and center.
When people ask me what this anthology is about, I'm often tempted to give them the complicated answer: it's about race, and about how being different from the person you love can matter but how it can also not matter, and it's about Chinese pirate ghosts, black girl vigilantes, colonial India, a flower festival, a garden of poisons, and so, so much else. Honestly, though? I think the answer's much simpler than that. Color outside the Lines is a collection of stories about young, fierce, brilliantly hopeful people in love.—Sangu Mandanna, editor of Color outside the Lines
With stories by:
Samira Ahmed | Elsie Chapman | Lauren Gibaldi | Lydia Kang | Michelle Ruiz Keil | Lori Lee | Sangu Mandanna | L.L. McKinney | Anna-Marie McLemore | Danielle Paige | Karuna Riazi | Caroline Tung Richmond | Adam Silvera | Tara Sim | Eric Smith | Kelly Zekas & Tarun Shanker
Purchase your copy of Color Outside the Lines
Praise for Color Outside the Lines
"Each well-crafted story feels like a pearl, and strung together, they create something beautiful and unique."
— Publisher's Weekly
"Readers who enjoy romance and exploring questions of community and belonging will find much to savor in this collection"
— Kirkus Reviews
"Lydia Kang's story is about how, sometimes, differences don't matter. Kang writes atmosphere brilliantly (one of her earlier books, The November Girl, is an example), and that shines through in her contribution about a girl, Yuna, who is the daughter of a poisoner, who meets Himil, a boy scarred from the poxplague. It explores ostracism, how appearances can be deceiving, and is a nice closing story about how, sometimes, differences don't matter."
— The Quiet Pond
Yuna and the Wall by Lydia Kang– "Yuna and the Wall was a well-written and good story. It was impactful and it makes you smile and it stays with you long after."
— Bookathon Blog