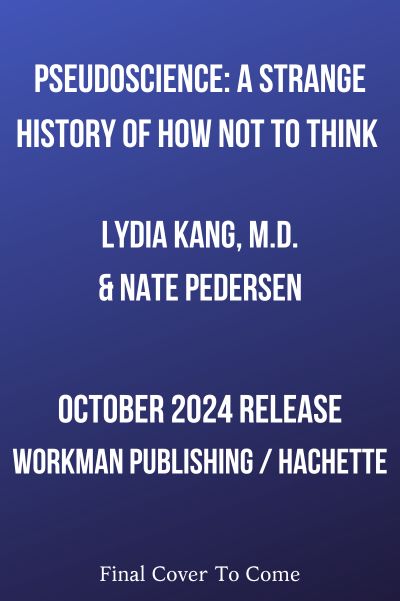 October 2024 from Workman Publishing Company
Pseudoscience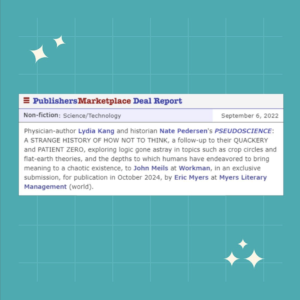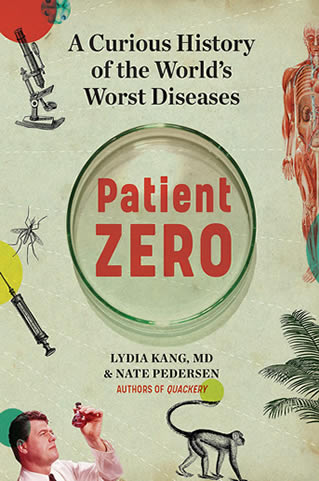 November 16, 2021 from Workman Publishing Company
Hardcover Edition ISBN-13: 978-1523513291
ASIN: B08WK86FRM
CD Audiobook Edition ISBN: 978-1665111188
Patient Zero
From the masters of storytelling-meets-science and co-authors of Quackery, Patient Zero tells the long and fascinating history of disease outbreaks—how they start, how they spread, the science that lets us understand them, and how we race to destroy them before they destroy us.
Written in the authors' lively and accessible style, chapters include page-turning medical stories about a particular disease or virus—smallpox, Bubonic plague, polio, HIV—that combine "Patient Zero" narratives, or the human stories behind outbreaks, with historical examinations of missteps, milestones, scientific theories, and more.
Learn the tragic stories of Patient Zeros throughout history, such as Mabalo Lokela, who contracted Ebola while on vacation in 1976, and the Lewis Baby on London's Broad Street, the first to catch cholera in an 1854 outbreak that led to a major medical breakthrough. Interspersed are origin stories of a different sort—how a rye fungus in 1951 turned a small village in France into a phantasmagoric scene reminiscent of Burning Man. Plus the uneasy history of human autopsy, how the HIV virus has been with us for at least a century, and more.
Purchase your copy of Patient Zero
Praise for Patient Zero
"A thorough and morbidly funny study of some of the world's deadliest diseases… Readers will be swept away by this energetic and enlightening survey"
— Publishers Weekly, starred review
"If only my AP Bio textbook had been so fun. From Mad Cow to Monkeypox, here's everything you wanted to know about the diseases you're glad you don't have. Hopefully!"
— Mo Rocca, author of Mobituaries
"Some of these stories read like gripping crime novels, some like Victorian tragedies, and some like futuristic thrillers. Patient Zero is essential and—dare I say it—entertaining reading."
— Amy Stewart, author of The Drunken Botanist and Wicked Plants
"A fascinating foray into the etiology of fevers, flus, and other foul febrilities."
— James Nestor, New York Times bestselling author of Breath: The New Science of a Lost Art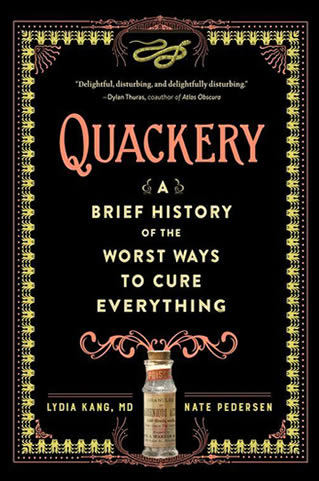 October 17, 2017 from Workman Publishing Company
Hardcover Edition ISBN-13: 978-0761189817
Ebook Edition 978-1523501854
ASIN B06XDX2X15
Audio CD ISBN-13 978-1665226387
Quackery
A BRIEF HISTORY OF THE WORST WAYS TO CURE EVERYTHING
by Lydia Kang and Nate Pedersen
A humorous book that delves into some of the wacky but true ways that humans have looked to cure their ills. Leeches, mercury, strychnine, and lobotomies are a few of the topics that explore what lengths society has gone in the search for health.
Purchase your copy of Quackery
Praise for Quackery
"Much more than simply an overview of radioactive suppositories and mummy powder, Quackery is a thrilling dive into the human desire to live, to thrive, and the incredible power of belief. Delightful, disturbing, and delightfully disturbing, Quackery shares fascinating medical tales from throughout the ages, including the age we live in. It astonishes with the history of what patients once did in the name of 'health' and makes you wonder what we will one day look back on with equal shock."
— Dylan Thuras, coauthor of Atlas Obscura
"Quackery brilliantly educates and entertains through the errors of doctors and scientists of the past. An entertaining read that will shock you and change how you view the health claims on products that we see daily."
— David B. Agus, MD, author of the New York Times #1 bestseller The End of Illness
"Lydia Kang and Nate Pedersen take us on a fast-moving journey through some of the craziest moments in medical history. It's fascinating, fun, and occasionally infuriating. And it's also a cautionary tale that should resonate even today—a reminder that when it comes to health care, being an informed consumer may indeed save your life."
— Deborah Blum, author of The Poisoner's Handbook: Murder and the Birth of Forensic Medicine in Jazz-Age New York
"Quackery is a bubbling elixir of the comically useless, the wildly hyped, and the just plain weird in would-be cures through history. Peel away those quaint old patent medicine labels and add some modern buzzwords, and marvel at how much has (and yet hasn't really) changed."
— Paul Collins, author of The Murder of the Century: The Gilded Age Crime That Scandalized a City and Sparked the Tabloid Wars
"Next time someone reminisces to you about the good old days, remind them how people used to wash their faces with arsenic, rub on radium liniment, and give each other tobacco smoke enemas. This compulsively readable compendium is a great reminder that medicine in the old days was often worse than the disease—and that there's always reason to be wary of 'miracle cures.'"
— Bess Lovejoy, author of Rest in Pieces